Chang Hsiao Min and Tay Poh Soon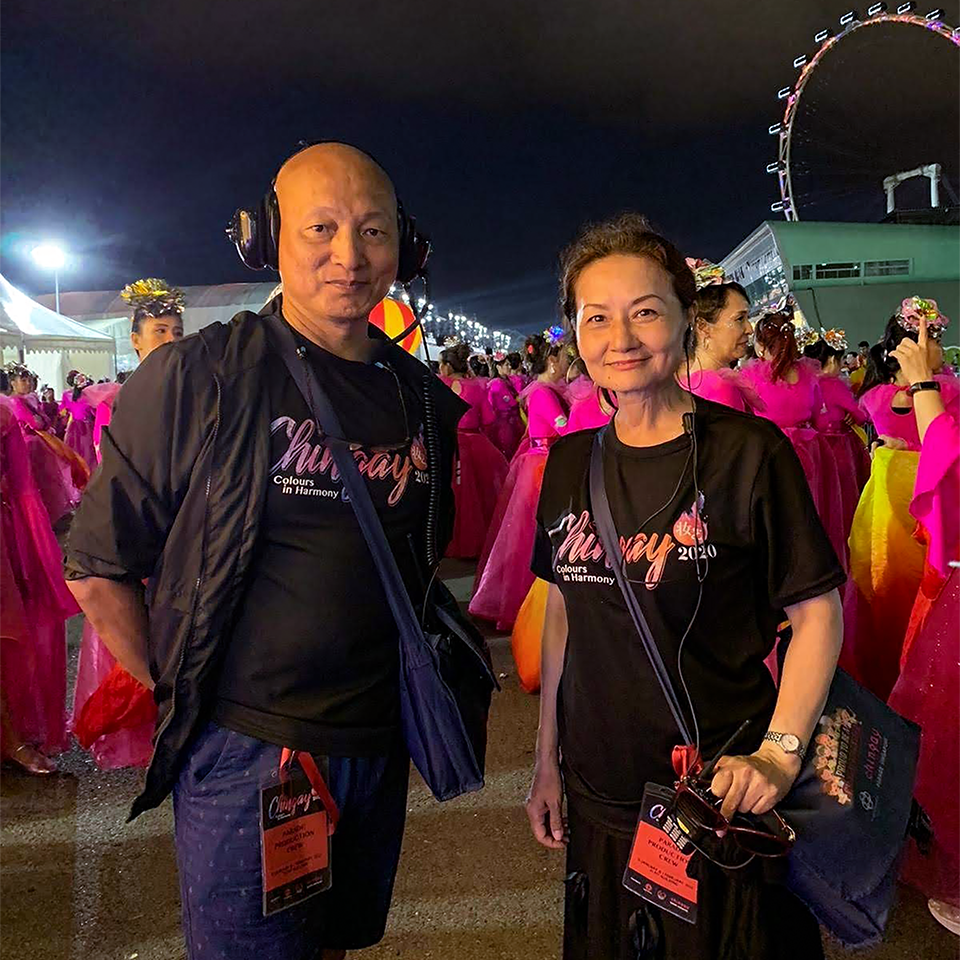 Tay Poh Soon and Chang Hsiao Min (left to right)
A Lifetime of Dance
Chinese dance choreographers, Chang Hsiao Min and Tay Poh Soon reflect on their decades-long Chingay experiences.
Fifty-seven-year-old Chang Hsiao Min and 66-year-old Tay Poh Soon have been choreographing Chinese dances for Chingay since 1994 and 1995 respectively. Since then, they have been a fixture in creating elaborate and exciting performances. In fact, they have participated in so many Chingay events, that dance assistant choreographer Poh Soon cannot recall the exact number of times.
Poh Soon shares, "I believe I was part of the performing group back in 1975, [but] I really do not remember how many times I've participated in Chingay. I can only recall that I became a choreographer from being a dancer, and I also helped out with the production team".
Chingay's Significance
Given their long relationship with Chingay, Hsiao Min and Poh Soon have witnessed the event's growth over the decades and believe that it has the potential to showcase local diversity on an international stage.
"Back in the early days of Chingay, it was a form of celebration show for the Chinese New Year. The event then transformed into a showcase of local multiculturalism. Chingay explored further and invited many cultural groups from different countries to perform," explains Poh Soon.
Hsiao Min elaborates, "From a small, neighbourhood item in 1973 to having country and international level involvement, Chingay does not just signify the celebration of the Chinese during the festive Chinese New Year period".
"It enables Singapore to have a chance to spread its multiculturalism all over the world," adds Poh Soon.
Creating and Sharing Art Through Dance
For Hsiao Min, the PA Talent Chinese dance choreographer, Chingay is all about sharing her passion for dance and choreography with others.
"I have been a dancer since I was a toddler, and my passion for dance has grown into not just individual expression, but I have the ambition to further enrich performing arts to many other performers and bring my creativity to a wider audience".
"Chingay presents theatre-quality performances to a wider audience. It is a parade performance that provides the opportunity for me to elevate my creativity and choreography."
However, coming up with refreshing ideas year after year for an event like Chingay can be quite a challenge.
"We have to break through what we have presented before to give a new and different experience to the audience. We are always seeking innovation every year in choreographing," shared Hsiao Min.
Poh Soon adds, "Chingay is an outdoor event, it's different from other indoor on-stage performances in terms of choreographing. Since it is outdoor, ambience and changes of formation is important too, whereas with indoor performance, all that matters are the details."
Hsiao Min elaborated, "Chingay is a mega performance with the biggest item involving 900 dancers. We have to consider the flow of a big group with external environmental factors like flooring, weather, performers allocation and deployment."
Despite these challenges, it is ultimately the joy of sharing their passion for Chinese dance that drives them to overcome these hurdles. In 2022, they choreographed a unique Chinese wedding celebration dance on stilts.
Let's do it again!
After almost 30 years with Chingay, it is clear that Hsiao Min and Poh Soon hold the event close to their hearts.
"Chingay is like a big family reunion every year. It is such a fulfilling moment and I would definitely participate again and again," said Hsiao Min.
Likewise, Poh Soon shared, "Given a chance again, I would be very happy to be able to participate again. It acts as a form of gathering with all my old friends where we can reminisce on the older days together."
Hopes and Dreams for Chingay As for the future of Chingay, both Hsiao Min and Poh Soon dream of sharing the event with an even larger, global audience.
"I believe Chingay will find its own ways of creativity and new performances after the storm of COVID and continue to grow and become famous worldwide like Brazil's Carnival," said Poh Soon.
Hsiao Min was of the same opinion, saying, "I hope Chingay continues to expand cultural exchanges internationally with other countries and spread to every corner of Singapore in an even bigger scale with a wider audience capacity".